Beginning to see a pattern
I've enjoyed building elaborate mechanical costumes for Halloween for the past few years. Two of my recent projects have been particularly satisfying, the
APU Costume
from The Matrix and my
Battle Mech
walking tank. Each took a few months to build, and both were well received.
This year, I built a Caterpillar Power Loader J-5000, the hydraulic utility vehicle seen in the 1986 James Cameron film Aliens. My goals were simple:
Build a costume that is immediately recognizable to folks who know the movie.
Make it good enough looking so that folks who have NOT seen it will still be entertained.
Make it light enough that I can wear it without discomfort.
Make it elaborate enough that it'll knock peoples socks off.
And finally, I want someone, somewhere to ask something along the lines of "How is it powered?" or "who's carrying you?" My previous two mechanical costumes have both gotten that question, it's the ultimate compliment.
Oh yeah, one other thing. I wanted to finish it in time for Halloween. I know, I know, "perfectionists" and their whole "I want to actually wear my costume in public" idiosyncrasies.
Update 10/31/06: Mission accomplished!
As with the previous two costumes, PVC had a role. As with my most recent costume, I'll was trying to reduce the amount of pipe in an effort to reduce weight. As such, one of my big plans for this project was to avoid PVC as a skeleton wherever possible. The strength it gives is very useful, but the weight penalty is substantial. As of the beginning of the project, I had the following material/design plans:
Extensive use of Styrofoam packing blocks to give a premade industrial look and big weight savings.
Will use another backpack frame from the army surplus store, it was an amazing improvement in the APU costume as compared to the Battle Mech.
I plan to experiment with putting a latex house paint base on the Styrofoam so I can safely spray paint it (I was unsatisfied with the Krylon H20 paints I used last year on the APU.
Will build many of the faux hydraulic cylinders that worked so well in the APU.
As the project continues, it will be interesting to see how closely reality matches these early plans.
Update 10/31/06: It was pretty close.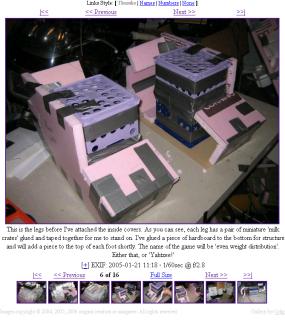 For fantabulous pictures, click
here
to enter the image gallery.
Pictures are being added almost daily.
New:
Video footage of the suit in action.